The Martyrdom of
Mayor George Moscone
by Joel GAzis-SAx
Copyright 1996 by Joel GAzis-SAx

For Albert Landeck

The City Creates a Liberal
Death by electrocution is cooking. The warden forces the twin rods of the switch into the clawed prongs, making the connection between generator and chair. The electrodes attached to the wrists, chest, and legs pierce your body with heat. As the juices inside you boil, they explode through your muscles and your skin. Your neurons wretchedly reach out to their their neighbors, desparately communicating the pain -- the pain. The surge overloads and poaches them. Smoke rises from your head. The brain feels the blinding flush of the death agony until it at last is killed by the horrific ebullition of the flesh still inside the skin. The demonstrators who gathered outside a Florida prison to celebrate a "Bundy roast" were not far wrong in their characterization of this gruesome end. Unlike Saint Lawrence, the victim of electrocution has no time to joke about being done on one side: the whole body is grilled at once.
George Moscone's father worked, for a time, at San Quentin. He brought his only son to see the death chamber and narrated to him some true accounts of what he'd seen there. Men in the chair grimaced, cried out. They defecated in their pants. The dying muscles vainly tried to throw the limbs and head into twisted postures. Only the steel braces kept them in place. The older Moscone took delight in this. Young George took away a memory of human cruelty, one that formed his opposition to the death penalty.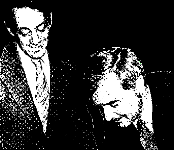 The man who was to become a comartyr of the City's progressive cause with Supervisor Harvey Milk was born in San Francisco on 24 November 1929. George Joseph Moscone was a milkman who often wasted his paycheck at the local speakeasies and bars. His mother, Lena, came from a family which made wine. George's parents divorced when he was about eight years old. His mother married again, briefly. George Joseph Moscone wandered from job to job until he ended up at a state hospital, as an inmate. Lena Moscone raised her son alone. She worked as a secretary during the week and as a liquor store clerk on weekends. She and George had to move often because landlords did not like children.
Through the faith of his mother, the loving assistance of the Catholic Church, and his own, native wit, George overcame the rootlessness of his childhood. He did not go mad like his father. Only once did he threaten to leave his mother and that was when she was thinking of remarrying. He attended St. Ignatius High and was admitted to the University of the Pacific from Santa Rosa Junior College, on a basketball scholarship. His talent on the court did not preclude scholarship. His diligence and intelligence took him back to the City, where he attended the Hastings School of Law.
On the streets, in the university, and as a young lawyer Moscone made friends who would figure in his political career. Some made their own careers, too, like the son of an African-American dirt farmer named Willie Brown, also a law student at Hastings. Moscone first glimpsed his wife Gina Bodanza from afar in grade school, "in pigtails and a green gingham dress" according to crime writer Mike Weiss¹ and married her as he came out of law school. Some of his early friends were more controversial and would fuel political attacks by opponents, the animosity of the San Francisco police, and the murderous ferver of his eventual assassin. Margo St. James, founder of the national prostitute's rights movement called COYOTE, was a friend from George's coffee shop days.² George, himself, liked women. This never led him to be any less devoted to his wife or fecund: he had four children by Gina and remained with her -- praising her virtue -- to the day of his death. Moscone often expressed the regret that his political career had taken him to Sacramento, away from the family he cherished. "I wish I'd been more content with lesser desires," he told a newspaperman.³
It was John Burton, brother to Phillip Burton (known to family and friends as "God"), who invited the young Moscone into politics. The young lawyer had successfully defended the younger Burton on bookmarking charges. When the powerful Phillip Burton (a state assemblyman at the time) asked his brother if he knew of any young lawyers who would run in a heavilly Republican assembly district and make a few friends, John suggested George Moscone.
Moscone did better in that race than any Democrat ever had in history. He lost, but earned enough gratitude from the party central committee to go on to run for supervisor and win. The next step in his career was a successful run for state senator. His ability to motivate people of all political temperaments led his party to elect him their floor leader in only his second year in office.
The conflict that might be summed up as the "pure and innocent" Dan White versus the "womanizing" Moscone and the gay Milk has led some writers to believe that Moscone's charisma was mere sex appeal. In evaluating the stands he took, however, we see that Moscone was a man moved mostly by his deep sense of injustice needing to be righted. He remembered where he came from. He remembered the people who had built San Francisco who were not the financial magnates sitting in their towers of glass, but the working men and women who laded the ships, drove the trucks, paved the streets, sailed the seas, and kept the infrastructure alive. Moscone remembered that he came from them. He honored them as he could by opposing a project that would leave them homeless or by championing a bill that would feed their children or by giving them recognition.
One project which Moscone unsuccessfully fought was the Yerba Buena Center. The construction of this massive convention center south of Market Street tore up several blocks which were the homes for indigents, pensioners, and other elderly men who had worked in construction, sailing, lumber, and other trades which the city depended on for its very form. He lost this 1965 battle (he was one of only two votes against the project), but the following year he stopped a freeway that would have thrown many working class black residents out of their homes and ripped a corner from Golden Gate Park. The friends who helped him win this struggle pushed him on to the State Senate where he repeatedly introduced a bill for school lunch programs against Ronald Reagan's threats of a veto until it passed and was signed into law by Reagan's successor, Jerry Brown. One of his last victories as a State Senator was to secure the passage of the state's gay rights bill, one which protected the privacy of the bedroom where there were two consenting adults.
When he was elected mayor, Moscone sought the support of the Board of Supervisors (which he never got) for redressing the grievances of black police officers who had been passed over for promotion. He also sought to recognize some of the "insignificant" people who'd helped him. The key to the city once went to his barber. To those who stormed in protest, he smiled and simply said that a man had to look out for his barber. The deeper meaning in this was that the working people have every bit as much a claim to the greatness of a city as the ones who sit in leather chairs, talk on the phone, and watch stock quotes sliding in on tickertapes.
His exemplary, ever-manifested thirst for a recognition of the value in all human beings made him many friends. But in the financial centers, on the police force, and in other institutionalized going concerns, this zeal made Moscone enemies. As he tolerantly observed: "With a mayor, the issue is love and hate. You love him or you hate him."¹¹ There was some talk in some quarters of eliminating him. In August 1978, Moscone took on a bodyguard after being warned by Margo St. James of a murderous attitude towards him on the part of some police officers.¹² But when death did come, three months later, it was not brought by boorish beat cops. The hand holding the service revolver belonged to one thought to be an innocent, an unrecognized madman whose supporters thought was the perfect boy to help them save the City from the "malignancies" who were changing it.

Notes:
¹Weiss, Double Play: The San Francisco City Hall Killings, p. 16.
²With tremendous guilt, I have to admit that it is a pity that Margo St. James hasn't died yet because her's is a great story of eccentricity and courage which belongs in a place like Tales from Colma. Margo was a dairy farmer's daughter who came to live in San Francisco where she liked to hang around with the coffee shop crowd in North Beach. Margo liked sex for fun. On one fell day, though, her roommate unknowingly brought home a vice cop who summoned his cohorts and commenced to raid what they thought was a house of prostitution. As the officers came rampaging in, Margo stood at the top of the stairs screaming "I give it away for free!" She was convicted of prostitution, but acquitted on appeal. Her experience with the travesties of justice drove her to law school, but she ran out of money and had to find gainful employment. Then she turned to prostitution for real and became a vocal critic of morality laws. COYOTE (Call Off Your Old Tired Ethics) became a unique feminist and libertarian vehicle. Final note: Margo, if you should hear about this, know that I wish you a long and happy life and a beautiful monument to your memory -- in Colma, of course!
³San Francisco Chronicle, 28 November 1978, p. D.
¹¹Chronicle, 28 November 1978, p. D.
¹²Shilts, The Mayor of Castro Street: The Life and Times of Harvey Milk, pp. 200-2.



Click on the inlined images for additional text and pictures