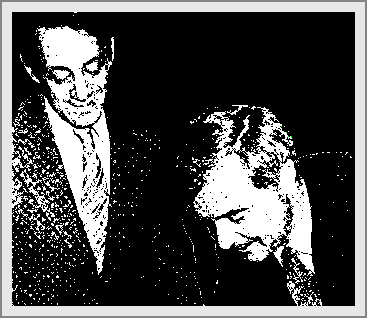 Mayor George Moscone (right) signs the nation's first gay rights bill. Supervisor Harvey Milk looks on.
A note on Harvey Milk: In the pageant of our nation, Harvey Milk is one of the great progressive leaders, joining a cast which includes Susan B. Anthony, Dr. Martin Luther King, Cesar Chavez, Emma Goldman, and others. I've not concentrated on his story here for three reasons:
He is not buried in Colma.
Less has been popularly written about Moscone than Milk and I felt it was time to rectify this.
I also wanted to explain how the Catholic Church could turn out two very different men such as George Moscone and Dan White. Milk's Jewish upbringing made him an odd fit for purposes of this story.
An interesting story has come up in the last year regarding the disposition of Milk's mortal remains. Friends believed that they'd seen the last of Milk after they'd seen him cremated and thrown his ashes off the Golden Bridge. Milk's Lover, Scott Smith, secretly kept part of the ashes. Air Force Sergeant Leonard Matlovich, famous for being the first decorated military hero to come out, obtained this portion and arrived at Washington's Congressional Cemetery bearing Milk's bronze urn with a mind to establishing a memorial for Milk. (J. Edgar Hoover, a gay man who visciously nailed the closet door shut by keeping files on nearly everyone in Washington and the entertainment industry is also buried here.) Milk's naval service qualified him for burial in the cemetery.

In 1987, gays and lesbians showed up at the Congressional Cemetery for the interment of the ashes. After they left, however, the ashes were put on a shelf, awaiting final payment for a burial which never came. After Matlovich's death in 1988, other gay rights groups discovered the whereabouts of Milk's ashes. In 1993, these held another massive memorial service for Harvey Milk at the cemetery. Again, though, plans for a memorial were never realized. Today, all that is left of Harvey Milk (who never wanted to be buried or have a fancy memorial in the first place) gather dust on a mortuary shelf. Milk's lover, Scott Smith, died in February 1995 and gave the last bit of Milk memorabilia to the San Francisco Public Archive, which has treated objects such as Milk's ponytail with great and deserved tenderness.

For more background on Harvey Milk, consult the bibliography, check out "Uncle Donald's" exquisitely presented personal remiscences, visit the Harvey Milk Institute home page, and read the San Francisco Chronicle's account of the fate of his cremains.